EXPLORATION NEVER STOPS.
Everyone's life is extraordinary. We, here at Onepolar respect the adventurous spirit of each and every athlete. Therefore, Onepolar is devoted to bringing a new value to outdoor gear through our innovative vision, attitude, and style. By using the finest materials and incorporating innovative technology, design, and exceptional workmanship, we can stay loyal to the product while also still emphasizing safety. As a result, each Onepolar product is an embodiment of uncompromising quality and exceptional craftsmanship.
The aim is to perfect the adventurer's gear so that the athlete's ability to overcome any severe weather conditions can be maximized.Onepolar designers and technicians constantly execute product tests with the engineers and mountaineering team, in order to optimize the utility of all Onepolar products. We also are fiercely dedicated to the exchange of innovative ideas and inspirations in order to craft the perfect product for you.
As always, we want our adventurers to be safe on their journeys. We decided to design a backpack with that thought in mind. The Guardian pack allows the user to stay afloat in water and is used as a rough life vest.
Youku:
http://v.youku.com/v_show/id_XNzMwNTIyMjc2.html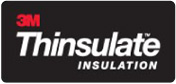 3M™ Thinsulate™
3M™ Thinsulate™Insulation is used in your jackets' pants' gloves' hats and boots to help keep you warm when it's cold outside. The unique microfibers or fine fibers that make up Thinsulate insulation work by trapping air molecules between you and the outside. The more air a material traps in a given space' the better it insulates you from the cold outside air. Because the fibers in Thinsulate insulation are finer than the fibers used in most other synthetic or natural insulation' they trap more air in less space' which naturally makes Thinsulate insulation a better insulator. So we haven't repealed the laws of nature with our thin insulation; we've simply improved them…to help keep you warm.
Benefits
breathable
moisture-resistant
both machine washable and dry-cleanable

Polartec® Classic200
Polartec® Classic fabrics are the reference standard for lightweight warmth and breathability. This is the original fleece offering unparalleled quality and durability. Polartec® Classic fabrics have been the primary insulation layer of choice among experienced outdoor enthusiasts for nearly three decades.
These fabrics are available in a range of weights to provide the right level of insulation for most outdoor activities. Polartec® Classic 100 weight fabrics are the lightest and are excellent for a warm first layer or lightweight sweater, ideal for biking, trail running, and backpacking. Polartec® Classic 300 weight fabrics are the heaviest and provide a warm thermal layer for very cold outdoor activities, such as wintertime adventures. Halfway in between are Polartec® Classic 200 weight fabrics, providing outstanding warmth and versatility.
The Polartec® Classic line includes over 90 styles of fabrics available in hundreds of colors, weights and finishes. Many styles are also available with a water repellent surface that sheds rain and snow (and even coffee spilled on the way to work). The Polartec® Classic line not only provides outstanding warmth without weight, but is breathable and durable, dries quickly and is a great styling option for virtually every end use.
How Does It Work?
The 100% polyester velour construction creates air pockets that trap air and retain body heat. Unlike other fleece fabrics, Polartec® Classic products maintain their insulating ability and non-pilling appearance after repeated laundering.
Technical Highlights:
Warmth without weight
Highly breathable
Dries quickly
Durable
Machine washable
Versatile use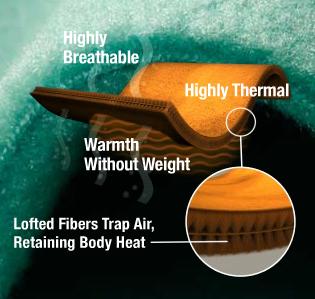 Polartec® Wind Pro®
Performance fabrics that are both wind resistant and highly breathable.
Polartec® Wind Pro® fabrics are extremely breathable yet provide 4 times more wind resistance than traditional fleece. This is the new "super fleece" that spans an incredibly wide range of conditions; performs as both outerwear and insulation; and offers exceptional durability. This is a versatile fabric that can be worn all year long for a variety of activities, from watching an outdoor football game to snowshoeing.
How Does It Work?
Proprietary yarns and a very tight construction greatly reduce the effects of windchill, the Achilles heel of traditional fleece. We have proven its effectiveness both in the lab and in the field. Polartec® Wind Pro® blocks the wind 4x more than traditional fleece.
The Durable Water Repellent outer surface sheds rain and snow. Velour or pebbled inner surfaces efficiently trap air and provide a high warmth-to-weight ratio. Both surfaces of these fabrics are finished for maximum durability and pill-free performance. They retain their insulating ability and original appearance after repeated use and laundering.
Because it is not a laminate, Polartec® Wind Pro® is also highly breathable, maintaining 85% of the breathability of traditional fleece to keep you from overheating.
Technical Highlights
4 times more wind resistant than traditional fleece
Warmth without weight
Highly breathable
Water repellent
Durable
Machine washable
While wind blows right through traditional fabric,
Polartec® Wind Pro® provides 4x as much protection and remains breathable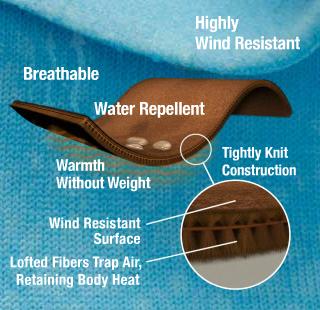 DuPont® Teflon
No matter what you're looking for, Teflon® fabric protector repel and release technologies can make every product perform its best. In apparel, Teflon® fends off soil, stains and spills on wool, cotton and blends without impacting the fabric's weight, look, feel, color or breathability.
Fabrics treated for repellency fight off dry soil and nasty, unpredictable spills and splashes, allowing liquids to bead up and roll off. Liquid spills can easily be wiped away when blotted with a clean cloth, and dry soil can be brushed off easily.
Because Teflon® fabric protector helps repel and release stains, it can reduce the need for laundering and dry cleaning. That means you'll be doing less washing, using lower wash and dry temperatures and have less wear and tear on fabrics. By helping you reduce your water and energy usage and increasing the fabric's usable life, Teflon® fabric protector helps you have less impact on the planet.

DuPont® Active Layer
Nearly 60 years after introducing nylon, DuPont continues to use science to engineer more comfortable, higher-performance materials for today's consumer apparel applications.
Athletes stay cool in protective apparel made with a special grade of DuPont™ Active Layer. Its high permeability to moisture vapor allows rapid evaporation and evacuation of sweat moisture.
DuPont™ Active Layer - a recyclable, renewably sourced, waterproof, breathable technology that enhances comfort and performance
TORAYDELFY®
Toraydelfy® is a heavy-duty, top-quality fabric with micro-porous. It is waterproof and breathable with water repellency of 5000-10000MM coating provided by the high-performance experts Toray Industries, Inc.. It has smooth,cool texture with soft and supple, wind-resistant, waterproof, moisture permeable, and with durable water repellency characteristics.
Toraydelfy® is always used for the manufacturing of outdoor apparel.
POLARVENT®
POLARVENT® is an innovative protective apparel material co-developed by Onepolar and Korea engineers. it provides excellent moisture absorbance, quick drying, wind protection, waterproofing and breathable features. Water repellency is as high as 5000mm H2O. It also gives you a thicker and rougher touch.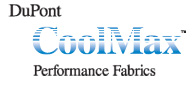 COOLMAX® is a trademark of INVISTA.
COOLMAX ®
COOLMAX® fabric is designed to move moisture away from the body and enhance fabric drying rate, thus keeping you feeling cool and dry. COOLMAX® fabric delivers performance and comfort through the use of proprietary polyester fibers with unique engineered microchannel cross sections and/or specially engineered two-sided, denier gradient fabrics made using qualifiable polyester or nylon yarns. The comfort of COOLMAX® fabric can be enhanced by using elasterell-p or introducing LYCRA® fiber.
PolarDry
PolarDry® integrates the comfort of cotton and quick-dry performance of polyester. It maximizes the transmission of moisture from the skin to the outer surface of the fabric by a combination of special capability. Design in spinning the fabric, fabric design and unique finishing methods. At the same time the unique structure makes the fabric more breathable and soft, comfort, keeping the fabric and skin dry therefore giving the feeling of health and comfort.
Benefits:
Light and Comfortable
Dry-comfortable and breathable
Moisture absorbance and quick drying
Sympatex®
Sympatex® is a modern, innovative and responsible high-performance brand ofenvironmentally friendly high-tech fabrics – for clothing, footwear and gloves. For over 30 years, Sympatex has been developing modern functional systems in which advanced technology and environmental protection complement each other ideally. The PTFE-free Sympatex membrane is certified by Oeko-Tex Standard 100 and bluesign®. The outer layer faces the toughest challenge: as well as allowing perspiration to escape, it has to provide external protection from the cold and wet.
As one of the world's leading membrane specialists, Sympatex concentrates exclusively on this outer layer. With a membrane that is 100% waterproof and 100% windproof with 100% breathability.
Benefits:
Light and Comfortable
Dry-comfortable and breathable
Moisture absorbance and quick drying

Polartec® Power stretch
Clothing that moves with you.
Polartec® Power Stretch® fabrics feature body-hugging 4-way stretch and are very breathable. They keep you dry when you sweat and provide warmth without weight. These are the most versatile outdoor and fitness clothing fabrics available today. Many of the fabrics feature a proprietary construction with two unique surfaces: the durable, smooth outer layer is wind- and abrasion-resistant; the soft inner layer pulls moisture away from your skin keeping you dry, warm and comfortable. Other fabrics in the series feature compression stretch which can improve performance and reduces the chance of certain types of stop-go injuries. Climbing, running—even taking on an Ironman competition—are easier when your clothing doesn't inhibit freedom of movement.
How Does It Work?
Moisture and high relative humidity next to the skin cause discomfort. Polartec® Power Stretch® keeps the skin dry through three complementary mechanisms:
The fabric is highly breathable and does not restrict the movement of moisture vapor.
"Touch points" on the fabric inner surface draw off the sweat. Sweat is wicked off the skin to the outside of the fabric, where it spreads rapidly for evaporation. When the sweat reaches the outside of the fabric, it spreads out to many times its original surface area, enabling it to dry at least 2 times faster than cotton.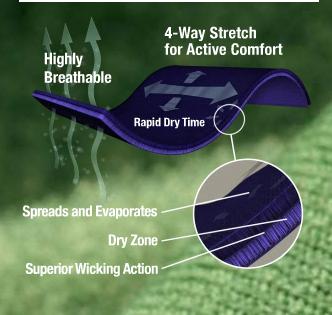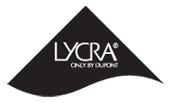 LYCRA is a trademark of INVISTA.
LYCRA®
LYCRA® fiber is a man-made elastane fiber. Never used alone, but always blended with other fibers, it has unique stretch and recovery properties. LYCRA® fiber adds comfort, fit, shape retention, durability and freedom of movement. This is achieved thanks to the unique properties of the fiber, which can be stretched up to seven times its initial length before springing back to the original position once tension is released.

CORDURA®
CORDURA® fabric is a collection of fabrics qualified by INVISTA for use in a wide array of products from luggage and backpacks to boots, military wear and performance apparel. CORDURA® brand fabrics are recognized for their long-lasting durability and resistance to abrasions, tears and scuffs.
From the classic air-jet textured nylon fabrics to today's ultra light weight nylon and high tenacity polyester fabrics, CORDURA® fabrics are available in a wide range of fabric constructions, weights and textures, including:
Ultra Light Weight Nylon Ripstop Fabrics (30, 70, 100 denier)
Nylon/Cotton Blends for Workwear and Denim
Textured Nylon Bottom Weights (160, 330 denier)
Light Weight Nylon Packcloths (210, 420 denier)
Textured Nylon or Polyester Packcloths (300, 500, 1000 denier)
Heavy Weight Nylon Ballistic Fabrics (630, 840, 1050 denier)
Ciba
Ciba Specialty Chemicals develops, produces and sells speciality chemicals worldwide. It serves a number of major markets such as the paper, plastics, printing, packaging, lubricants and automotive industries. The company currently comprises of three business segments - Plastic Additives, Coating Effects, and Water and Paper Treatment.
Fabrics which is coated with Ciba UV protectant has an UPF (UV Protection Factor) of 50+.

3M™ Scotchlite™
Whether at work or play, 3M™ Scotchlite™ Reflective Material helps you to be seen at dawn, dusk, or night, in all weather conditions. Versatility, performance and fashion come together in Scotchlite reflective material. Designers can easily incorporate it into all kinds of footwear, garments, and accessories, from safety vests to high performance activewear. The results: attractive reflective clothing that helps make people more visible.

3M™ Scotchgard™
Scotchgard™ keeps your clothes free of stains. Over 55 years ago, 3M made an important discovery that captured America's attention: Scotchgard™ Protector. In a time of short-lived fads, consumers were ready for a long-term solution to help keep their fabrics looking good longer. The revolutionary stain repellent was instantly embraced and is now one of the most well known and trusted brands in stain removal and fabric protection.
DURAFLEX ®
Duraflex, the world's leading brand in plastic buckles & accessories for the outdoor sporting goods industry, was founded by Joseph Anscher with the passion in bringing the most functional and reliable accessories to the backpack market.
Over the years, Duraflex has grown from a single factory in the United States, to now operating factories worldwide, in US, Italy, China, and Vietnam. We stay close with our customers in providing local manufacturing as well as local support, wherever & whenever we are needed.
As the brand grows, so have our product offerings. With the completion of a major expansion in 2007, the brand now includes product offerings from the original plastic buckles, to metal snaps, grommets, zipper pullers, cord locks, labels,and so on. Duraflex, now covering almost all the trims & accessories for the sporting goods industry, can offer the most complete line of trims the customer needs, whether it's for backpack, apparel, golf bag, stroller, military, and so on.
Clariant
Clariant is one of the leading manufacturers of textile dyes and offers comprehensive ranges for all segments of the modern textile finishing industry. With our headquarters in Switzerland and affiliates and agents in more than 60 countries, we are always in close proximity to our customers. The commercial marketing of our dyes is one side of our business. Research with particular view to economy and ecology, development of new products and optimum application methods as well as a comprehensive customer service are others.
Clariant's Business Unit Textile Chemicals provides special chemicals for pretreatment, dyeing, printing and finishing of textiles. Our product packages enhance the properties of apparel and other textiles in applications as diverse as high fashion, home textiles and special technical textiles.

Supplex ®
INVISTA's SUPPLEX® fabric offers consumers the feel of cotton with the benefits of advanced fiber technology. Cotton's natural texture and aesthetics make it the fabric of choice in many garment categories. Garments made with cotton tend to crease and shrink easily, and they often fade in color. INVISTA scientists wanted to give consumers the benefits of cotton, without the pitfalls. They did so by developing SUPPLEX® fabrics—a family that combines the traditional appeal of cotton with the performance benefits of modern fiber technology. SUPPLEX® fabrics are breathable, hold their shape, dry faster than cotton and retain their color.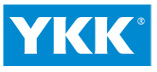 YKK®
The YKK Group established the management principle "YKK Seeks Corporate Value of Higher Significance" under the corporate philosophy "Cycle of Goodness." The YKK Group is trusted worldwide for their impeccable production standards and thorough quality control processes for slide fasteners, hook and loop fasteners, webbing tapes and plastic hardware. There are integrated production and supply systems in place that meet all of the needs of customers worldwide.
SANITIZED
The Sanitized® hygiene function brings more comfort and well-being into your outdoor activities, it ensures a feeling of freshness all day long. This treatment is integrated into the textile and offers long-lasting, safe and fresh wearing comfort—all day, every day. Sanitized® maintains freshness wherever you are letting you feel completely comfortable.
Benefits:

X-STATIC
The x-static fiber has a layer of pure silver permanently bonded to the surface of a textile fiber. The process is such that the fiber, with its silver layer, retains traditional textile and tactile characteristics. It can be used in knits, wovens and non-wovens as either a filament or spun yarn.
Advantages:
Antimicrobial
Natural
Permanent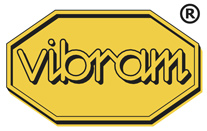 Vibram rubber is a rubber sole created to enhance footwear flexibility and comfort. Every compound in our Vibram rubber soles has been created with the end product in mind to ensure that the product's unique needs are met. We want to ensure the best functional performance for any activity. We focus on characteristics such as flexibility, density, hardness, skid resistance, and abrasion resistance so that our products are created with the correct quality needed for optimal performance.
Vibram rubber is created with natural rubber and synthetic rubber. With unique properties in each, we utilize both to strike a perfect balance between durability and flexibility. Natural rubber, collected from a rubber tree, maximizes flexibility in usage. Synthetic rubber is more wear-resistant and durable.
A closer look at the details
http://v.youku.com/v_show/id_XNzMwNTQwMDU2.html